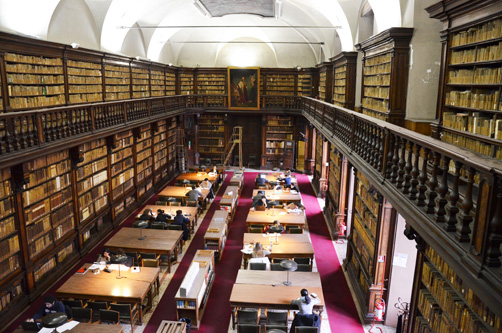 Reading Room
It is the Jesuite room, also called Theological because it was used as study room by the Jesuits.
It is open to all the Readers who want to consult monographies or periodicals in the Library.
It can host about 80 Readers.
Repertoirs, encyclopaedias and dictionaries are available.
An aided online search service is also active.
The paintings in the Room:
Over the entrance door:

Protasio Girolamo Stambucchi (Milan 1759-1833)
Portrait of Franz II Emperor of Austria (1768-1835)

In front of the entrance:

Giuseppe Sogni (Rubbiano, Cremona 1795 - Milan 1874)
Portrait of Franz Joseph, Emperor of Austria, 1857

On the vault:

Francesco Fabbrica (Milan, active in the first decades of the 18th century), attribution
Allegories of the arts, the sciences and theology.